Something fun is going on!
I always tend to think of Labor Day as the kick off of Official Quilting Season. (Not that every season isn't quilty – but holiday projects are now entering the forefront of our quilty lives!)
How do we keep it all organized?
So many projects i progress, so much in formation on yardage needed, How can we keep track of it all and make better use of our time?
And what it can do for you.
Newly released by C&T Publishing, The
Quilter's Project Planner
has everything you need to start planning your next great project! Set your project goals, track your progress, and manage your time and works-in-progress (WIPs).
And it's more than just the "write your project here" kind of Planner – there are 5 different tabs to help you see your year in advance, and plan just what it is going to take for you to reach that goal.
tracking your project is easy with this fabulous format!
I am excited! Even the contents page lit my fire!
I really need this in my life.
Seeing the 12 months of the year laid out like this -
It's going to help me stay better organized.
And maybe also realize that I have crammed too much stuff into one month of the year, and maybe I better reevaluate my timeline.
Having a quilt dream is great -
But how are you going to put some action behind it?
That's what these pages are for!
The project pages are large and roomy!
Each project has two full pages for everything from project details to construction/cutting notes (like which way to press those triangles so they nest!) There is a task check list, and a place for fabric & supplies required – notions, templates & tools needed.
And perhaps a place to write a note as to just where you stored that project so you can find it when it is time to work on it again!
Draw out that design – or figure out to turn the corner on that border just right.
And don't you love the spiral binding??
How often do we forget who we've given a quilt to? Or just which quilt it was? Keep track of them here!
There is also a page for a Charity Quilt Tracker, and another for Quilt Alongs, Bees, & Mystery quilts. Guess what is coming up SOON!?
It doesn't stop there. There is also a Workshop Tracker, and a Retreat Tracker. including a Retreat Packing List! You'll have everything you need to work on those projects away from home.
There is a page for Quilt Shows Attended, and also for Quilts that you have loaned out for display.
This planner is your brain on quilts!
Always looking for info on your Favorite Quilt Shops? There is a page to add that info here.
And don't forget your Sewing Machine Sales & Service shops – keep them listed so you will always have that info at your fingertips.
The contacts tab also has entries for My Quilt Guilds, My Longarm Quilters and pages for your best Quilty Friends and Online Favorites.
And don't forget the reference pages that list things from inches to decimals, backing yardage calculator, binding hints and more.
You need this. You want this!

We will draw for our winner on Friday, September 18th when the tour ends!
Please note that all prizes MUST be shipped to a USA Address. If you win from outside of the USA, you can have the prize shipped to a friend with a USA Address who can forward it on to you.
And don't forget to visit these other stops on the Social Media Tour, entering to win on each site!
Quilter's Project Planner Social Media Tour
9/10 Terificreations- Teri Lucas
terificreations.com
9/11 Quiltville- Bonnie Hunter
quiltville.blogspot.com
9/12 Quilt Fabrication- Susan Arnold
quiltfabrication.com
9/13 Zippy Quilts- Mary Puckett
zippyquilts.blog/
9/14 Lilo Bowman
lilobowman.com/
9/15 SewVeryEasy - Laura Coia
youtube.com/sewveryeasy
9/16 Slice of Pi- Laura Piland
sliceofpiquilts.com/
9/17 C&T Publishing
ctpub.com/blog/
For you that can't wait – I have 2 cases of The
Quilter's Project Planner
on their way to me, and they are available for pre-order – meaning your order will ship as soon as books arrive. I am expecting them in the next week to 10 days. You'll find them in both the New and Books category of the
Quiltville Store
!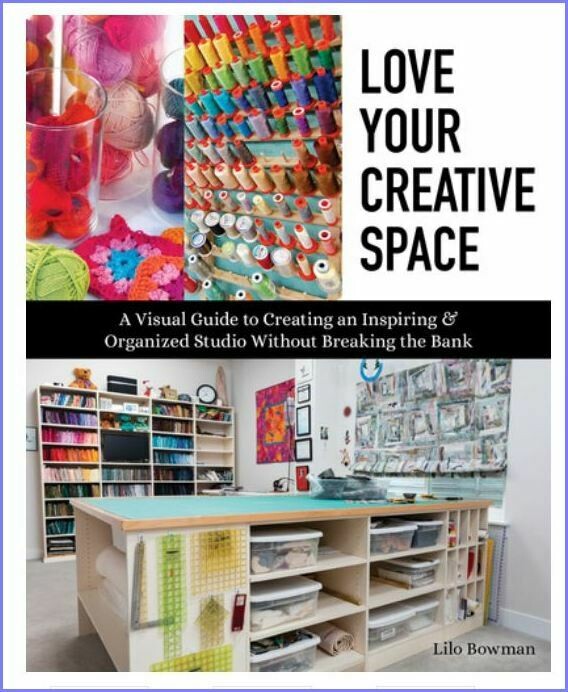 Also in the New Category!
These two books go so well together – hand in hand as they say! Both are on sale for $19.99 each. Read more about Love Your Creative Space in my original post.
And there is also something we should not forget today:
Where were you, September 11, 2001?
I will always remember where I was as this day unfolded. Getting my kids off to school while living in Waxahachie Texas.
It couldn't be real, it didn't seem possible - I was in a stupor for weeks. It still hurts my heart deeply.
I think I will be pausing many times to remember, to think, to consider.
What were you doing on this day? Let me know in the comments below.
Quiltville Quote of the Day -
May we always remember, and let it make us continue to love each other harder, no matter our differences.
Have a wonderful Friday, everyone.