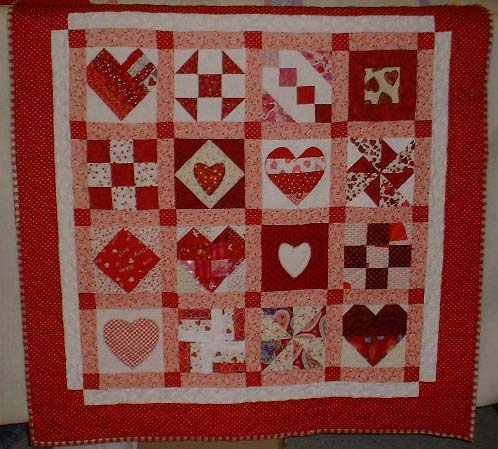 A while back, I had a pic with part of this valentine's table topper peeking out. Some of you asked to see it. I decided to wait until it was closer to valentine's day so I could post something valentine-y :c)
This quilt was made from a swap of 6" valentine themed blocks I did with an online quiltlist. It's a pretty tame sampler, but I really like how it turned out, and it was a good place for me to use up the last of (hooray!) that red with white hearts print left from my early 1980's quilting days. Those little dot hearts came in EVERY color..remember them? I think they are all about gone now, though sometimes they still show up in the string bin and smaller scrap bits.
I've done it. I've delivered my first resume and coverletter to a spa that is opening up in the new Gold's Gym complex near me. I had dropped by there yesterday just to see when they would be open. The owner happened to be there, and I talked to him a minute and he said to drop a resume by. So guess what I spent the best part of yesterday afternoon composing? Thank heaven for templates in word/works that have everything in the right format and you just have to fill in the blanks. Still...it was kind of intimidating to me. I haven't worked for anyone else in 16 years. Yes, I've had my own home based businesses, but they are in an area that doesn't apply for the massage position that I am looking for. So there is the worry that I still don't have enough "massage" experience to be considered for the job, but heck, I'm trying right? And now that the cover letter and resume are composed....I can alter the cover letter to suit other places I can apply to, be it a chiropractic office or whatever, and that weight of having to compose them is off my shoulders. The only thing left is business cards, but I need my license # on them and I haven't received my packet from the state yet. That should come in the next week or so.
Things here at home are still at a stand off. Son is avoiding me, and I'm staying out of his way. I've tried so hard to open up communication, talk about school, about friends, about whatever, and he refuses to let me in or to participate so I'm throwing in the flag for right now. He'll talk when he's ready to talk, and no amount of my trying to draw him out is going to work at this point.
Thank heavens for the retreat on friday! I'M SO READY!!
Bonnie