I'd like to announce that Quilt Mav's has a new member to welcome to our neighborhood! You can visit and welcome Laura at
Pine Ridge Quilter!
This has been a crazy day for me. After stewing about that test date, I got back online this morning and moved it from the 30th to the 26th...just so I can get it over before that weekend, and not have to stew over it.
I have a CD program that has practice tests on it, similar to the test I will be taking, so I worked with that a bit this morning. I need to study harder! I think my brain has forgotten half of what I put in there over the past year!
I also had a dentist appt....I have a molar with a crown, maybe 5 years old. My jaw has been having this deep down ache, so I went to the dentist to have it checked. I need a root canal in that tooth :c( They gave me an antibiotic for now that should help, but I scheduled the proceedure for Feb 9th. I hope I can last that long. It's a dull deep down ache, not sharp pain, but it is constant.
That little jaunt was also added to some other errands. I am the charity quilt person for our guild, and three of the charities are all in a similar area, so I made the rounds today and delivered quilts and stuff to the Children's Garden (A pre-school daycare for the children of homeless parents) the NICU and Breast Cancer Center at Palmetto Baptist Hospital. Then I drove to the library and returned some books on CD.
After that it was to Sam's club to drop off the antibiotic prescrip. DH will pick that up tonight on his way home....
We've been having a trying time with our nearly 16 yr old son. Jeffrey has been moody and cantankerous and disagreeable and not doing well in school. On recommendation from one of his teachers, we have an appointment with a counselor who specializes in adolescents tonight at 6:30. When the counselor asked if we could come tonight...I was almost afraid to say yes, because I could envision Jeff throwing a fit and saying NO WAY. But he agreed to go for 3 sessions. My hope is that he will like this guy enough to stay for more, but at least this is a start. We promised pizza at pizza hut after the counselling. Please keep us in your thoughts and prayers...I really fear for my son and the way his life is going right now. This is his second time through 9th grade and he still doesn't seem to care.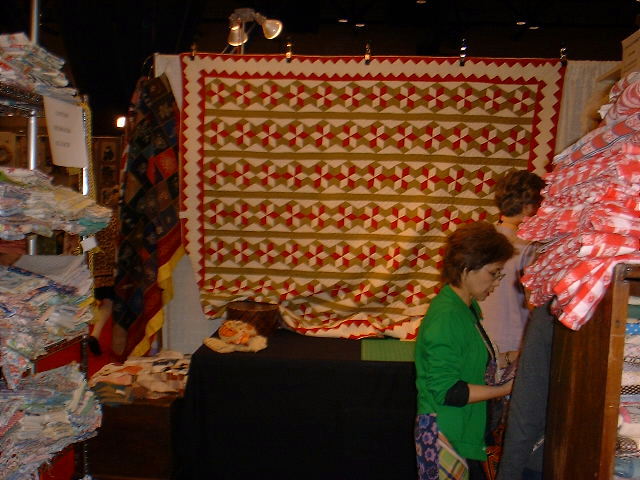 Today's selection from the "Old Quilts" file is this beauty that I saw in Houston a few years ago! You might have to click on the photo to view it bigger and see it. At Houston I tended to flock more to the antique booths than all the quilts actually on display for the show! I love 6 pointed stars even if they have those (*&@#$( set in seams. I just loved this one and the setting.
Bonnie