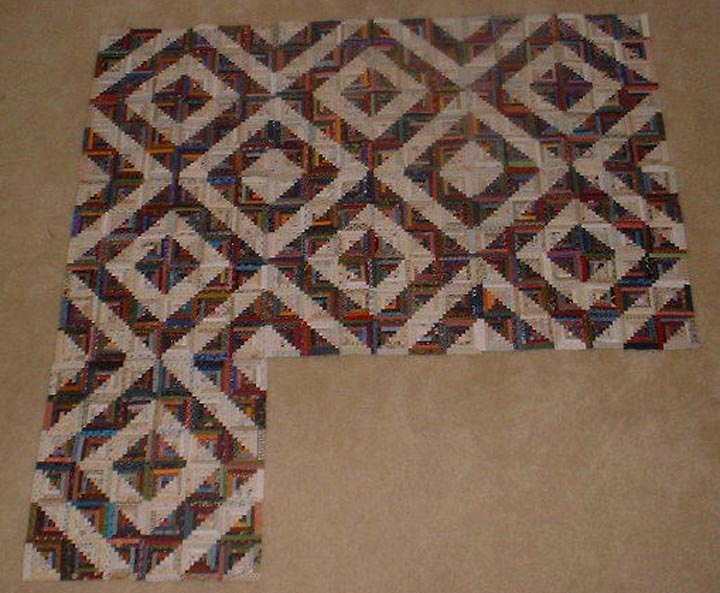 Tracey was posting about her 3" log cabins...I'm not sure what Finn's size is, I didn't check...but it made me want to dig out this old UFO I was doing from my smallest smallest saved pieces...Tracey..I'm still working on however many thousand blocks I need for these! And ohhhh dear, they've been on the back burner for a long time too! I'm thinking maybe if I could do the one block a day with you, I can get this done?? This layout shows 252 blocks....auuughhh!
The thing weighs a ton, and yes the blocks are 3" too. I tried 2", but the fabric prints because indistinguishable and the whole thing was seam allowance thickness...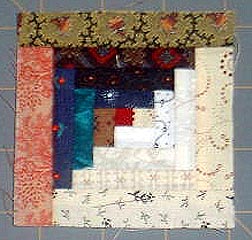 One block, at least with this size, you can still tell what the fabrics are....
I think we all are playing in the loonie bin! *LOL*
Tooth is better, I celebrated by chewing gum!! But that made my TMJ sore on that side, probably from having my mouth propped open for so long :c)
I had lunch with a friend today....she drove me to the place I have to go to take my test on thursday, so I know where I'm going and won't get lost in a panic :c) NICE, huh?? She took her test and got her license about 6 months ago. If she can make it, so can I!
I worked on the customer quilt I started last friday before the tooth got bad over the weekend. I'm past 1/2 way on it now....the string quilt with the chalkboard grey 1/2 blocks in the barn raising? I hope to finish it tomorrow.
Jeff had an appt with the counsellor this afternoon. Good appt! I really like this guy. Since Jeff's birthday is tomorrow we went out to dinner tonight all 3 of us...Jeff's fave place is a buffet place called Fire Mountain. I got by with a salad and a piece of fish and a roll. I think I was still full from lunch (that was better, we went mexican!) so I don't feel so guilty about eatting out twice.
While at the counsellors with Jeff, I studied in the lobby while he was in his session. I had to memorize a star chart for the chinese five elements and the organ system meridians that go with each element and certain charactoristics of each. Because I can memorize the chart, and write it by memory, I'll be able to write it down when I begin my exam, and then use it as a reference. I hope it will help when the test has questions on oriental modalities. Not anything I'll ever use I'm sure in my practice, but it's those things you have to know just to pass the exam!
I'm still hand quilting on the Shoo Fly quilt. I've done nearly two rows of fans around working from the outside in towards the middle.....I'm going to pop into Jammies right now and then work on that a bit more again tonight. I've had all the studying and cramming today that I can take.
Bonnie