Like the child who "all I want for Christmas is my two front teeth..." All I want for my brithday today is to have this tooth fixed! I called the dentist office and they can 'squeeze' me in at 3:45. HOORAY! I think they took pity on me, or pity on my family for having to live with me. :c)
This will also work out great because my friend Sandi and I wanted to make a plan today to hop over to Joann's while so much stuff was still on sale. I need some king size hobbs batting, and while it is 1/2 off, it's cheaper than I can get it wholesale plus shipping. So I'm going to buy 6 of them and stash them back. Not sure what else is on sale, but when Sharon showed her great organization boxes for her sunroom studio, those really caught my eye too so I'm going to check those out.
Not a whole lot of quilting got done this weekend, mostly because the pain meds make me sea sick. Bad enough that I am not taking them today...I have to DRIVE! I've gone back to the ibuprophen, as well as still on the antibiotic. I hope it will see me through until after the proceedure. I did some hand quilting, and some swap block piecing...but I really didn't spend much time behind a needle at all this weekend.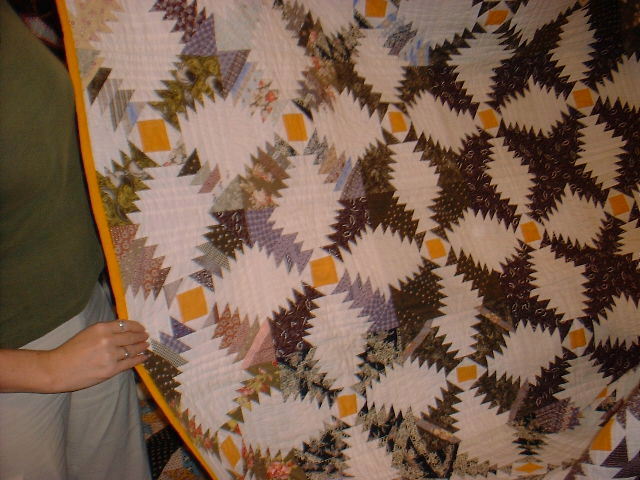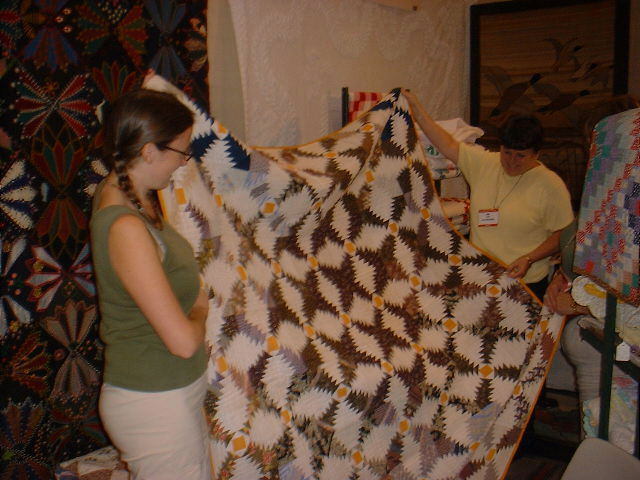 Here is some more eye candy for you. This is a pic of an antique pineapple, also from houston. I just loved the fabrics in it! This must have been "the year of the cheddar" when I was taking photos that year, they all seem to have cheddar in them somewhere..*LOL* It was just LOVELY.
Bonnie