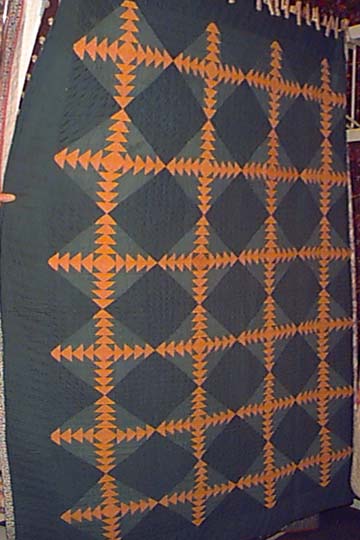 Everything Goes Better With Cheddar! At least I'm sticking too it....I just LOVE this Cheddar, and when I see it in antique quilts, I love it even better :c) This is a pic from Houston a few years back.
Toothache is still naggy. It has been 1 1/2 days since the antibiotics started, so I should start seeing an improvement. Right now, it feels awful good to wrap one of those icepack thingies in a little tea towel and lay my whole face on it!
I'm thinking twice before I eat anything....even though I'm chewing on the side that isn't sore, you can't just open one side of your jaw without using the other. I may end up losing weight before I get this tooth worked on, which might be not a bad thing at all. Soup is my friend. Yogurt is my friend!
My little friend Stephanie came over to work on her puss in the corner blocks today. I really enjoy so much having her here. We graduated school together and she is just so sweet. Killer that she is about the age of my oldest son! Her puss in the corner blocks are all reds and neutrals and she is doing really well on matching seams and learning to use all the different reds and different shades of background fabrics. It's going to be a super quilt for her.
While she was here working I loaded a customer quilt, it's a string quilt "roman stripe" set in barn raising. The solid 1/2 of the triangles is a marble grey, and the pieced parts are EVERYTHING under the sun. Alot of brights. I am quilting with signature thread in varigated brights. It really makes that grey look not so bad! (at first I thought it was a little subdued for the brights in the pieced triangles)
I love how the varigated looks across the grey. It reminds me of playing with colored chalk on a school chalkboard :c) You might have to click the pic to see the thread better. This quilt is 98X98. BIG AND HEAVY! (and she sent warm & natural batting to go in it...make that twice as heavy!)
I got a good bit done while Stephanie was here, and it was only because she was here that I could force myself to plug away with it with how I feel! DUMB TOOTH!
Bonnie