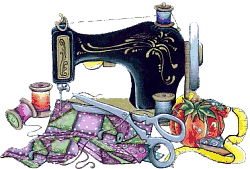 A friend of mine has her blog at
Orientation::Quilter
(you can see her over there to the right in my sidebar :c)
She has done a great job with a
pictoral tutorial
on how to clean and oil your machine (hers is a bernina) in between getting your machine serviced at the shop. It's WONDERFUL! I had been doing SOME of these steps, but she shows things that I didn't know about that makes me want to go right over and give my bernie a little clean right away!
Your machine may be a different brand, and parts may be different, so check with your own service place on how you can best keep your machine clean and oiled in between having it serviced.
On the personal front..it's not a very quilty weekend! (And yes, that big customer sampler quilt is getting there, just a bit over one row left) As far as my own stuff goes that is. Today I printed up some business cards and dropped them off at the bike shop that is up the road from the massage clinic. My DH bikes with a team of guys from there, and I put on the back of the card that they can get $10 off their first massage by mentioning Summit Cycles when they call me. It might bring me some business, at least it is worth the effort to try right?
Back to the quilts!
Bonnie