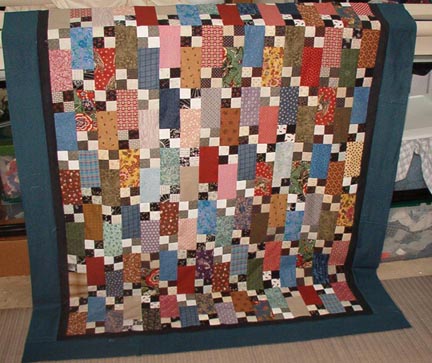 There is a member on the Stashbuster list...Tara Lynn Darr who lives in Joliet IL and operates "
Sew Unique Creations
".
She has directly copied my bricks and stepping stones pattern from my website and is SELLING it on hers. This was just brought to my attention today. Hers is the brown one...mine is the blue. You've all seen it before...many of you have made it!
She has it packaged as NEW THIS SPRING, and mine has been on my website for 2 years....I first presented it to the stashbusters group before I showed it anywhere else. The pattern is so well known and referred to on stashbusters that she could not be unaware of it?
What is even more remarkable is her copyright on her page:
"Copyright 1999, '00, '01, '02, '03, '04, '05 & 2006. All rights reserved. All images, patterns & designs herein are protected by the United States of America copyright laws. Please do not right click and save our images or wording, all of our designs which include but is not limited to our printed patterns, books and hand drawn patterns and drawings are protected under the law. Please do not save anything to your hard drive, print, scan, photograph or reproduce in anyway the images or wording seen on this website, this is stealing. To learn more about copyright laws, please visit http://www.copyright.gov/"
STEALING?!?? Just WHO is STEALING?!? I know that traditional patterns all have the same elements and units. You can't copyright a 4 patch or a 9 patch or an ohio star. But I think this goes a bit beyond that.
This one leaves bewildered. I have always given everything I have to this group for free....and this one blindsided me. Maybe I should be flattered? I am just frustrated and needed your ears. I'm telling myself to calm down after the close call with the quilting book that had my star struck quilt on the front cover. There is another website that has put up their own directions for THAT pattern as well...at least they aren't charging for it. :c( It's coming from all corners!
It makes me afraid to put anything "new" on my website for fear of where it might end up. I'm not in this for the money...I never have been.
BTW..you can contact Tara Lynn via email if you wish
sewunique7@aol.com
Bonnie in SC