I have a gift challenged DH. There is no other way to say it....when they handed out imagination for gifts, or protocol for what does NOT make a good gift, he failed miserably.
One year it was a gas clothes dryer.Yes, we needed a dryer, but why does that make a good Christmas gift for me?? Doesn't the clothes dryer service the whole family?? Something that epitomizes WORK to a woman just does not make a good personal gift. From that point on it was a rule that small appliances, vacuums, cleaning things, even cooking things (no toaster, no sandwhich maker, no fryer)were only okay to give on non-holidays.
This slipped his mind a couple years ago when for my birthday he brought home...unwrapped in a CVS pharmacy bag with the receipt in it no less...one of those "as seen on tv" pasta pots, the kind with holes in the lids for draining. Two pots actually, you got a bonus small one for free :c| cheap aluminium, the first time he used it (I have yet to use it) the paint started coming off the outside. This was NOT a good birthday.
I ranted and raved privately on this birthday, I was so frustrated.....I whined all over a small quilter's email list I am on, and for my birthday, they ALL sent me pasta recipes with the heading of "put THIS in your (*&@#& pasta pot!". It was too hilarious and made a difficult moment much better.
So now....DH is nearly afraid to try anything without getting the okay from me first, and that is hard, because I can't usually think of anything off the top of my head what I want. It takes the suprise out of it, you know?
The same thing happened the other night..."What do you want for Valentine's Day?" *shaking head* (this is after...what? a month of jewelry commercials on tv??)
So yesterday I go into the clinic to help work the front desk and see if I get any walk in massage appts. (I sold a couple gift certificates and those will be my new clients, so this is a good start!) and this little old black man is going door to door offering on-site car detailing while you wait. BINGO! My car has not been detailed since I bought it 3 years ago. I try to keep it clean, but as far as really getting in there and detailing it.....who has time for that?
So I called up DH and said....I know what you are getting me for Valentine's Day....My car detailed! *hehe*
He did a great job too! He spent 4 1/2 hours working on cleaning and detailing my car! Wow. It was SO GREAT. So even though there was no imagination to it on DH's part, I am tickled with my car and the mobile detailing guy. I think it's something I'd recommend to other women out there who don't know what to give their DHs for valentine's or for their birthdays or for father's day etc....who would have thought..car detailing?!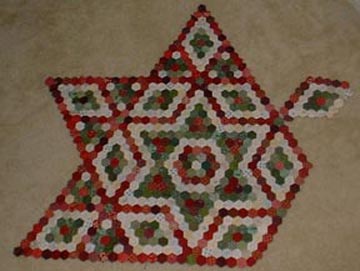 I'm thinking that while sitting at the clinic in between appts is going to be a good time to take some UFO handwork project to work on. Maybe my hexagons...it's a small project? It has set untouched for probably...2 years? I just need to throw it in the car so I'll have it with me....
Bonnie