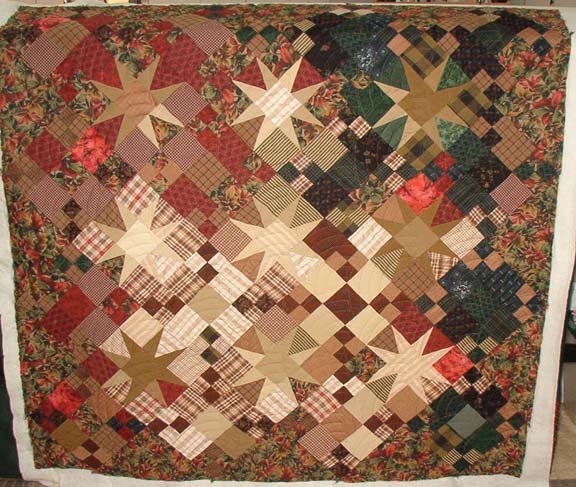 I didn't get ANY stitching done yesterday at all! Other than finishing the last row of fans on this quilt, that is, and it isn't my quilt!
This quilt belongs to a gal in my North Augusta guild. She passed it off to me when we were at quilt retreat a couple weeks ago. I love the colors, and the value play in this quilt! She saw the one I had up at retreat that had the fans on it, so that is what she wanted for this quilt too, and I think it was perfect, because the quilt has so much going on.....not much of anything was going to show regardless! And the fans made it interesting, and economical too, since she didn't have to pay for heirloom style quilting to have her quilt look good.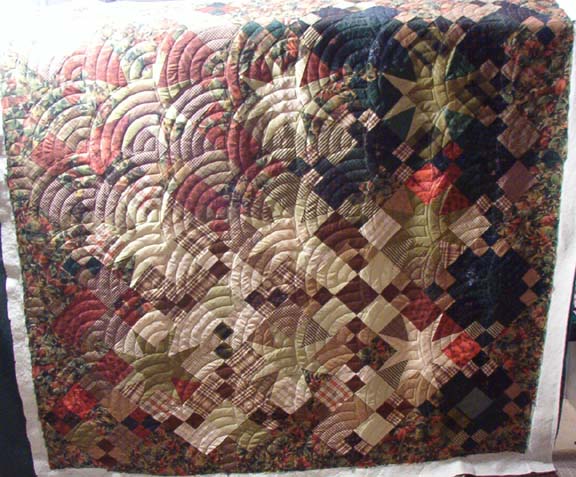 I had to really really side light the quilt and take the pic with the flash OFF to even get the fan quilting to show, that's how blended this quilt is. But I love it. I love the pattern. Peaky-spikey stars are GREAT.
Today I need to start a commitment I made to myself. My schedule has been SO screwy all through the past year+ because of school, studying, other commitments etc. I have really fallen off the wagon as far as my own fitness and health goes, and it's time to take care of ME. I have a membership at the YMCA. It's time for me to get back into my yoga classes and pilates classes and increase my energy and stamina. I can't take care of everyone else unless I take care of myself first. And this goes for all the effort and strength and stamina that it will take me to do massage after massage after massage a day. So I am going to start today. Pilates at 10:30. The big problem had been the time frame, because by the time I get out of there the day is 1/2 over, but that's just something I'm going to have to deal with!
Bonnie