My baby is 16 today!
Jeff's counselor appt was last night. So far so good again. This week, now that he is officially 16 as of today, he wants to start looking for a job. HOORAY. Nothing like real life's lessons to teach a kid what is what. I don't even mind driving him everywhere to get apps, or to drop him off and pick him up. It's time we can use to talk in the car, you know?
This morning two of his friends came over, plus one spent the night last night since they have a late start on wednesdays. The friends came in and sang happy birthday to Jeff because he was still in bed asleep. It was so funny to watch him wake up to that racket! Teenage boys sound particularily interesting when singing silly songs like Happy Birthday in their 16 year old early morning voices :c)
I made waffles and canteloupe for everyone for breakfast...and off they went to school. It was a very good morning! (so far)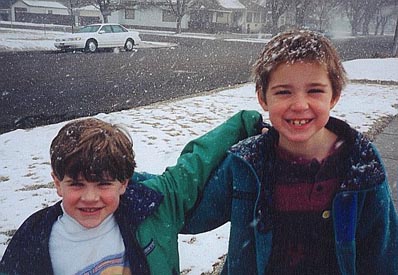 This is a pic of Jeff when we still lived in Idaho, it's the earliest digital pic I have of him. I think he was about 7. Jeff is the tall one on the right, the other kid was a neighbor, and it was so long ago I don't remember his name...My how time flies!
I'm done taking the antibiotics finally. This stuff (clindamycin??) is AWFUL! It makes your stomach feel like the worst case of heart burn you have EVER had...worse than when I was pregnant. And the pill you take before you go to bed is the worst because you just lay there.. but now I'm done. I'm not taking anymore of this stuff..EVER!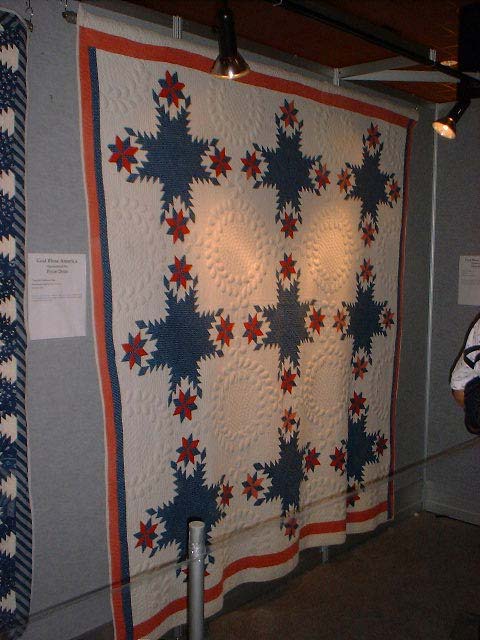 This pic is also for Tracey, it's a pic of an antique trapundtoed feathered star I found in Houston. The hand quilting was AMAZING! I just wish I could have gotten closer to get better shots, but that clear tape across the exibit keeps you from doing so, I wonder why? :c)
I really thought it was interesting to put the inner blue border just on two sides. Yep Yep....I sure love unexpected things!
Sun is shining in SC...looks like a good day!
Bonnie