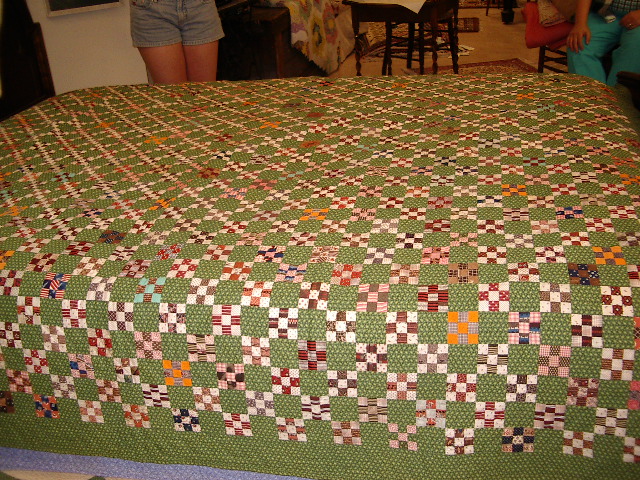 This was a quilt that someone had brought to one of the antique malls in Augusta GA when the guild was having a quilt appreciation day there, and invited people to come for appraisals, etc. Siobhan took this pic for me because I couldn't be there. The quilt was pieced somewhere around 1870 and the 9 patches measure 2" across. They are TINY! I love the little bits of turquoise and cheddar that pop out here and there. Another thing that was interesting about this quilt was the quilting. It was like they quilted it in a grid from the BACK of the quilt, because the grid didn't fall anywhere specific....we would normally quilt an X through the patches, or through the 9 patch blocks and setting blocks themselves. On this quilt they were nowhere NEAR going through the blocks that way, and sometimes the angle was even funky. It looked like it had been quilted from the back, and wherever the stitches fell, they fell!
This is the quilt that inspired me to make a 9 patch and set it with green, only mine was made with 3" 9 patches (yes, even I have my limits! *LOL*)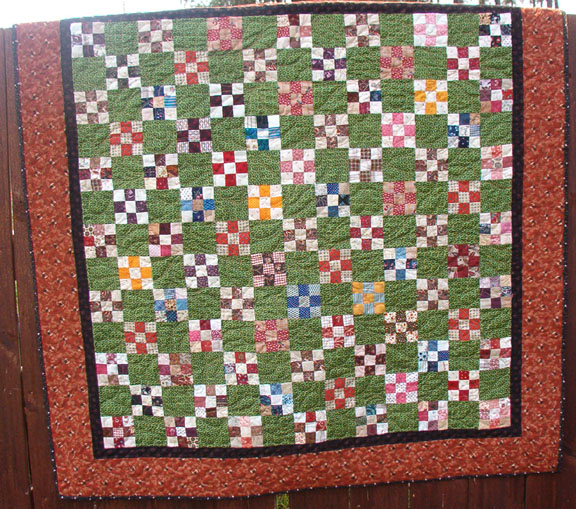 I also made mine lots smaller. I figured I had enough 9 patches and this was as far as it went. I really DO love the poison green though....
I spent a sleepless night...antibiotics give me a tummy ache. BLAH! I am supposed to take this stuff every 6 hours, and yes that means getting up in the middle of the night to take it...WITH FOOD. Do you think I can get to sleep after that? NO WAY. Nothing like puttering around the house between 2 and 4 am, and finally falling back to sleep only to have to get up to get the son to school at 7am. *yawn*
I'm off to study for a bit, and then get going on a customer quilt to get my mind OFF the studying :c) Have a great day everyone!
Bonnie