String Spider Web Class Supply List!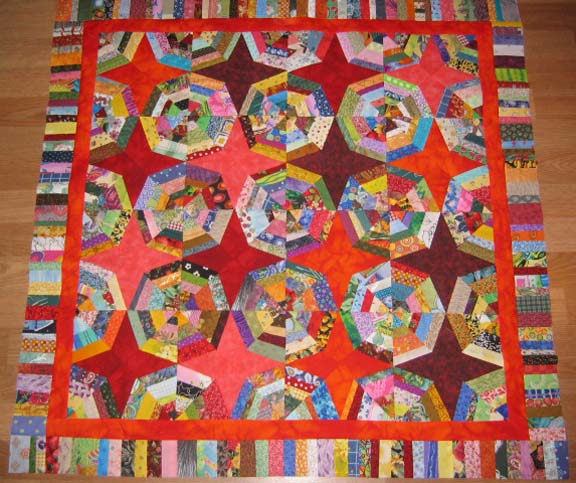 Lap Size Quilt Approx Size: 55"X55"
Quilt can be made any size you want it, just make more blocks!
The objective in this workshop is for students to learn the basics, and the fun and freedom of string piecing!
Students will bring scraps and strips to share with others in the class so that everyone has a variety of fabrics to play with.
Please come with a basket, a box, a bin, a bag of scraps you've had sitting around! Bring strings (long strips from 3/4" to 2" in width and everywhere in between) squares, bricks, trimmings from joining binding on the bias, odd sized triangles, left over binding pieces....in a wide variety of colors! Lights, darks, mediums, prints, solids, batiks, calicoes, bring enough to keep yourself busy for 3 hours of fun piecing!
Background fabric: This all depends on how big your quilt is going to be. The lapsized quilt can be made with 1 yard of background. (In this case Orange) If you make the quilt bigger, plan accordingly. A twin sized quilt will take you 2 yards, a full to queen 3 to 3 1/2, etc. These yardage requirements are estimates.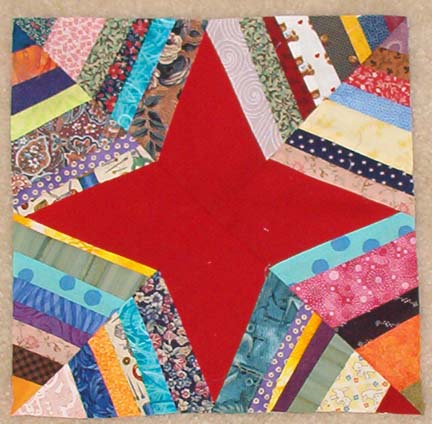 Block Size: 10 3/4"
Sewing machines will be provided for this class.
In addition to your fabric please bring:
Print out the pattern here:
http://quiltville.com/spiderwebpf.html
and bring it with you.
Thread, scissors, seam ripper,pins and any other notions you usually sew with.
Rotary cutter, mat and ruler.
Wooden seam presser, unless individual irons are approved for your venue. Please don't overload the breakers and blow the fuses!
One piece of template plastic and a fine point pigma marker to draw on it with.

1 tablet "newsprint" type drawing paper. This paper tears easily for removal. Avoid velum as it curls when touched with the heat of the iron. Phone book paper is also great! Printer paper is a bit tougher, but can be used in a pinch.
1 fine point pencil

We are going to string up a storm at the International Quilt Festival of Ireland!
Please contact me if you need more info:
Quiltville@gmail.com