Before there was a blog, there was a website --- and I tried to document all my small quilts by making a little statement of each, and linking it to a picture. This is a recap of those quilts, in an effort to get everything in one place on this blog for easy access!
Bonnie's Small Quilts!
Small Quilts are a favorite! They cover walls, tables, chairs, couches, you name it!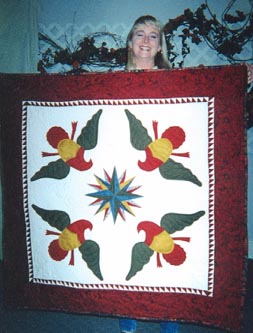 4 Eagles, 1999


---
---
October, 2007: Out On A String!! I foundation pieced these little gems onto diamond shapes cut from recycled phone book pages. I also used the old fashioned tried and true method of using inset Y seams to sew this block together. I know there are "easier" methods out there, but I just didn't want additional seams in my block corners or in the side triangles. Sometimes a bit of extra effort is worth it! Quilting detail Fun "crabby" fabric on the back to suit the mood I was in that day! *LOL*
---
---

May, 2007: Nine Patch Split! I love to take out my precut scrap squares, triangles, bricks and lay them out just as if I were playing with building blocks and see what strikes my fancy. I made this quilt for my youngest sister who is expecting her second child, a boy, any day now! (yes, I am rushing to get the label on and the quilt out the door before his arrival!) Close up! Quilting Detail!
---
---
---
---

August 2005: Midterms are over! I have 3 months....12 weeks....of school left! YES! It has been such a hectic time that I haven't been able to really concentrate on tedious piecing, but felt the need to be sewing something mindless and brainless. I made these little string blocks out of left over snippets accumulated from trimming scraps down to strips and squares and bricks. These little blocks finish at 3.5" square! I named this quilt Midterm Mayhem because that was what my life was like at the time I was piecing it. I machine quilted it, placing a plume in every square, following the direction of the pink X's formed by placing a pink strip down the center of each block. I used a variagated rayon thread called "horizon". Perfect name I thought, since the end of school is on the horizon! Close up pic.
---

Not really small, not really bed quilt? I'll put it here anyway! I made this snuggle quilt for my friend who is undergoing chemo. This was my attempt at playing with 'bricks' in a layout I had in my mind. It didn't turn out quite the way I had envisioned, but I like it, and because of playing with this I've got more ideas to do a different variation! I love things that open the doors to other options. Keeps things interesting! I call this quilt Brick Bowties. Made with 2" strips, 3.5" squares, and 3.5"X6.5" bricks. Close up pic.

---
---

July 2005: My DH and son have been installing laminate flooring downstairs. It's a war-zone down there! I retreated this weekend to the quilting room and loaded a top into the quilting machine that I had finished a while ago. It's a 1/2 log cabin design. I'd done other log cabins before, but never played with 1/2 log cabins. I tell ya...these leave too many logs to match up! From now on I'll either stick with purposely liberated and wonky, or stay with the kind where the logs go all the way around the center square instead of just being on two sides. That said, I do like how this turned out! I set the blocks in a pin-wheel design and called it Whirly-gig Logs! Here is a pic of the quilting in progress. And a close up hanging on the fence outside.
---
---

June 2005: It's been a while since I have added anything SMALL to this page! I have been making some smaller quilts, but just have been VERY BAD at getting them uploaded. I hope to correct that.....at least on the ones that I haven't given away as gifts! I've been in love with "liberated quiltmaking" ala Gwen Marston lately. Just LOVE the freedom! Here is a pic of a Liberated Log Cabin that I made with random width strips from my string piecing bin. I love purposely crooked! how can you go wrong with that? :c) I hope you can see the machine quilted baptist fans. A big favorite of mine. I'd hand quilt everything with baptist fans too, if I had the time, but I don't!

---

June 2005: I was in the mood for something patriotic since 4th of July is getting close. These framed 9 patch blocks were leftovers from my red & yellow 9 patch quilt. I sashed them and added cornerstones, set them with an old fashioned soldier blue and added borders. You can't see it, but I used a flag fabric on the back and quilted it with MORE baptist fans :c)

---
---
---
---
---
---
---
---
---
---
---
---